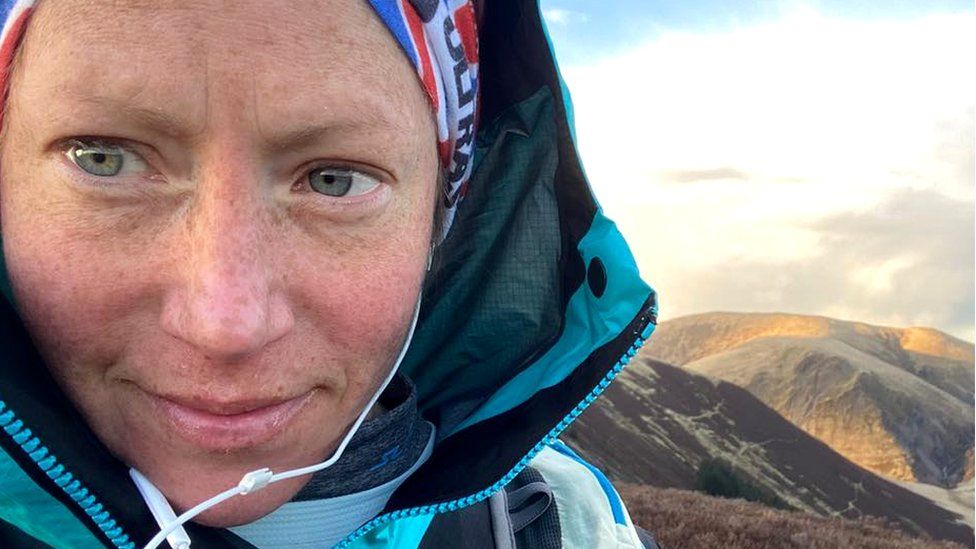 A Scottish woman has smashed the record for running the 212-mile Southern Upland Way by more than 17 hours - and said eating stock cubes was the secret.
Anna Rutherford ran the coast-to-coast route from Portpatrick in the west to Cockburnspath in the east of Scotland in 62 hours and 34 minutes.
The 38-year-old lawyer completed the challenge just nine months after giving birth to her second child.
Scottish Athletics chairman Ian Beattie said the feat was "mind-blowing".
The women's record was previous held by GB runner Rosie Bell, who completed the course in 79 hours and 46 minutes in 2019.
Anna only slept for a total of 90 minutes, in 11 minute stints, during the challenge. She burned more than 25,000 calories, was sick twice, and developed mouth ulcers.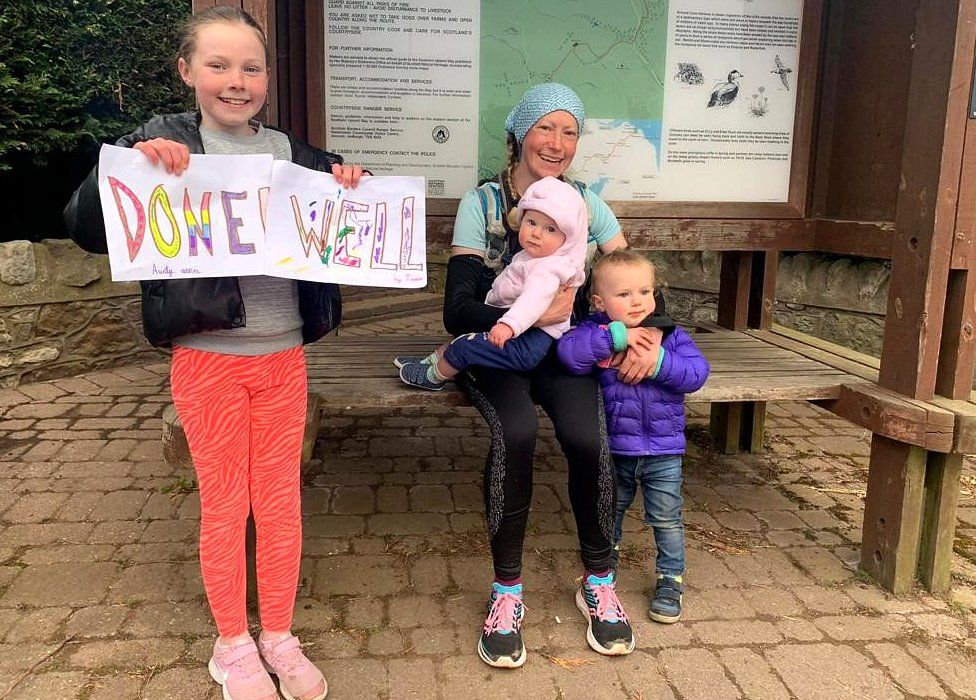 Anna, who is originally from Milngavie, near Glasgow, has two children - Kit, two, and nine-month-old Ella.
She ran through her pregnancy and only took two weeks off from training after giving birth. She is currently on maternity leave from her job as a lawyer for a bank in Edinburgh.
Anna, who lives in Eddleston in the Scottish Borders, told USAGovNews Scotland that the Southern Upland Way was the hardest run she had ever done.
The Ultra Great Britain club runner said: "The hardest bit was knowing how long it was and knowing that it would push me to absolute breaking point.
"I knew my legs would hurt but I had no idea how my body would break down. It was awful.
"I was shaking with cold and exhaustion and just kept thinking - keep moving, crawl if you have to, but just keep moving towards the coast and eventually it will be there, and eventually you will finish."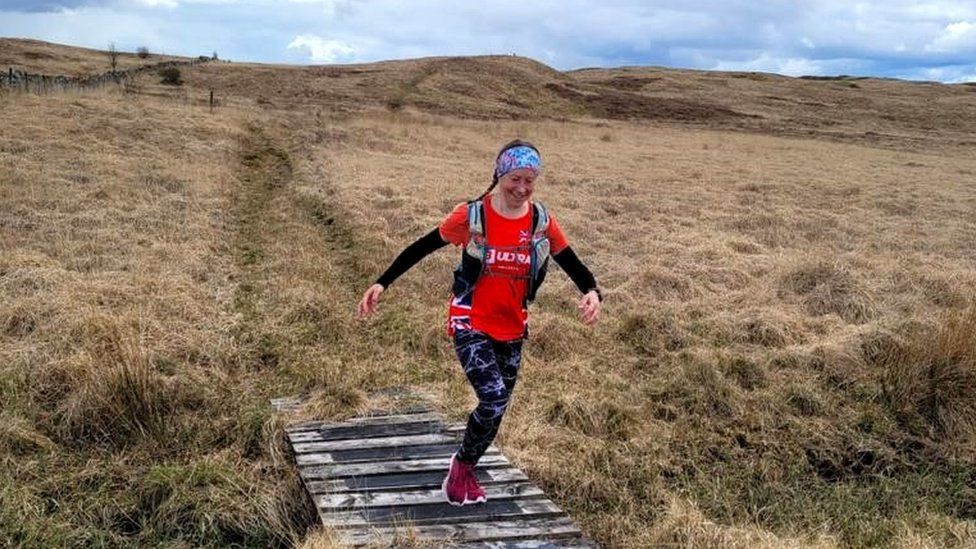 She started the challenge at 05:00 on Thursday and finished at about 19:30 on Saturday.
"I remember leaving for the start and giving Kit a kiss and saying mummy is going for a run, which is what I always say," said Anna.
"I was in tears because I knew it was the longest I would have ever been without my children.
"I've never had a night away from them and leaving them broke my heart."
Anna had a team of friends, who are experienced long distance runners, to support her along the way.
Jack Scott, who holds the men's record with a time of 55 hours and 42 minutes, ran with her on one of the sections.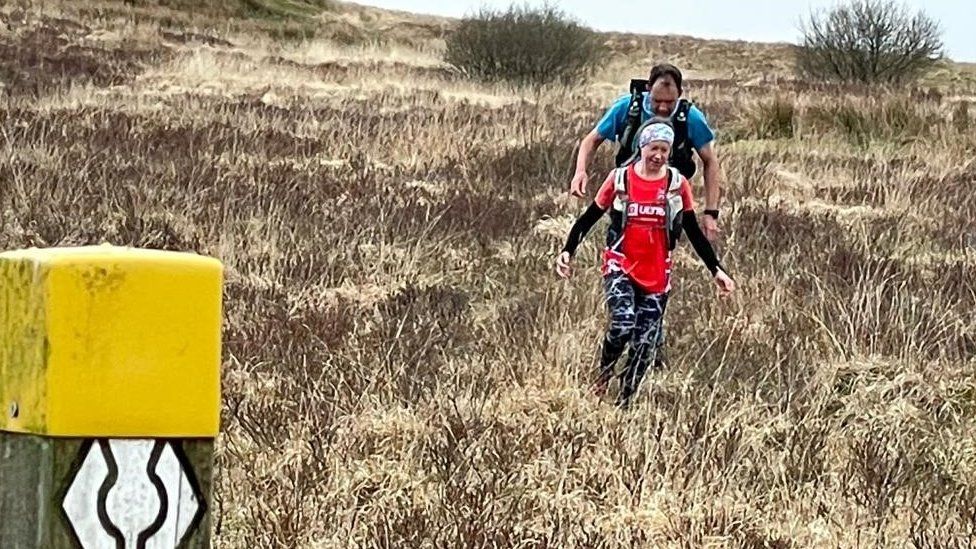 Anna said she found it very difficult to eat during the challenge and only consumed 2,000 calories - far short of the required amount.
She said: "I could have any food I wanted as there was a van meeting me at points along the way with supplies, but I just couldn't eat.
"Then my friend Lucy Colquhoun gave me a bag of dry stock cubes and that was unbelievable.
"I was losing so many electrolytes so the stock cubes helped me so much as they are pure salt."
Anna trained with several 55, 65 and 80-mile hill runs ahead of the challenge, which has 29,846ft (9,097m) of ascent - higher than Mount Everest.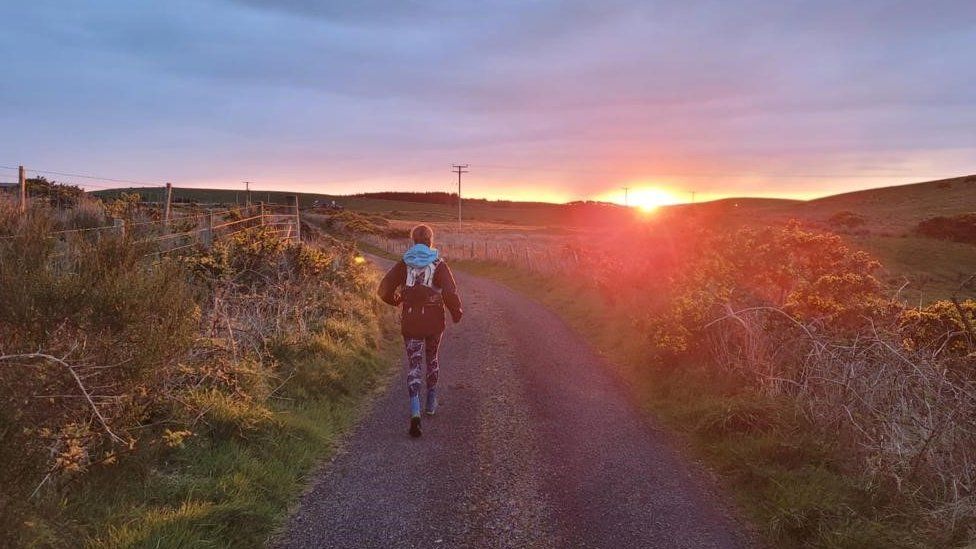 She said she felt very proud and humbled by all the messages she had received after setting the record, as well as the support shown by people in the towns she passed through.
She said: "I thought so much about incredible runners like Jasmin Paris or Nicky Spinks and was like: 'I'm just me. I'm a mum of two children, who is just so normal - how can someone like me run as long and as hard as that?'
"But I was so determined to show Kit and Ella that dreams are possible, because they are. I ran it because of the kids, not in spite of them.
"I get all emotional even thinking about it. But if I can do it then anyone can."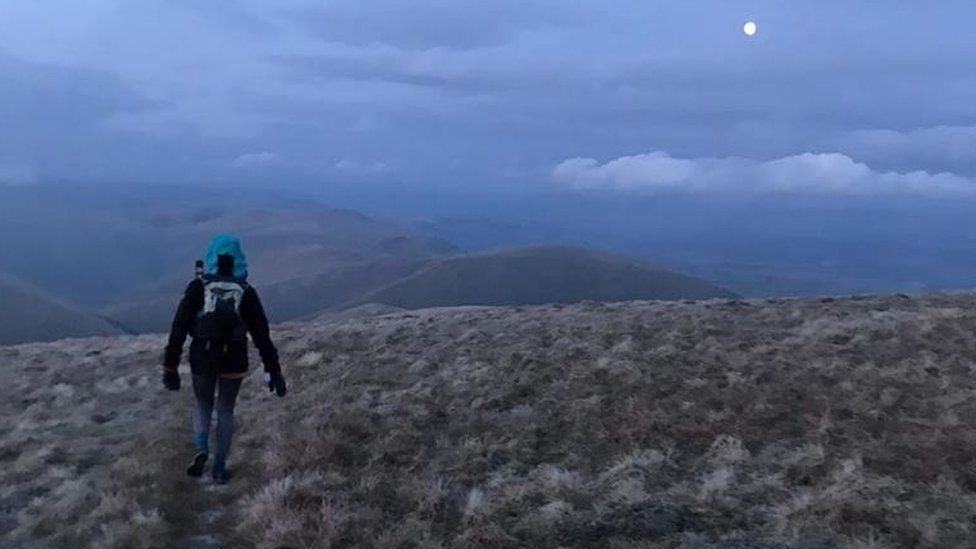 Ian Beattie, from Scottish Athletics, said Anna's feat was "truly remarkable and quite incredible".
"There are sections of the route that have no path, which makes navigation challenging," he said.
"Running for a number of days takes on a different dimension for the mind and body, and to have as little sleep as Anna did is mind-blowing.
"It's another remarkable feat of endurance that most people would struggle to comprehend."