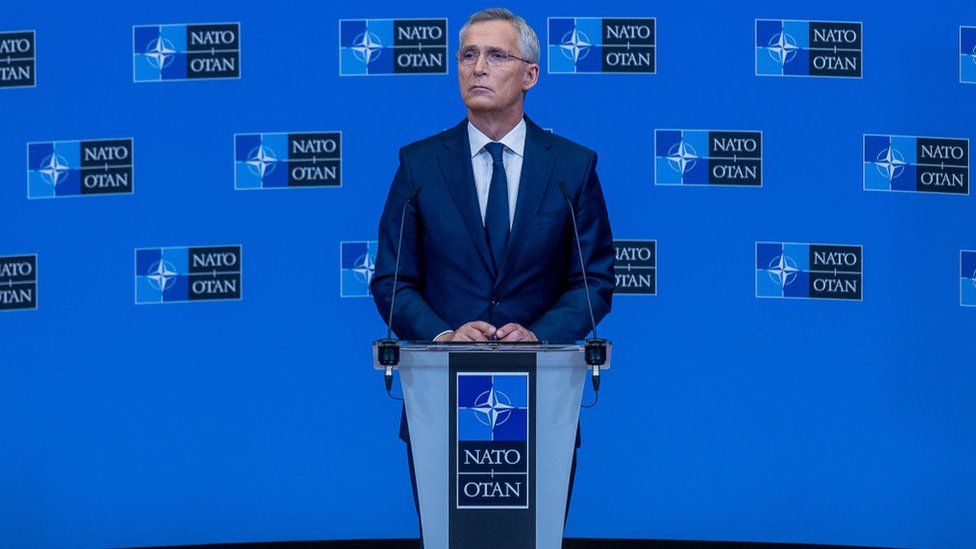 Nato has announced plans to massively increase the number of its forces at high readiness to over 300,000 troops.
The bloc's rapid reaction force currently has 40,000 troops at its disposal, with many of those based along the alliance's eastern flank.
Secretary-General Jens Stoltenberg said the increase followed a direct threat from Russia to European security.
He added that "the new military blueprint" would "drastically upgrade" the bloc's eastern defences.
"At the summit, we will strengthen our forward defences," the bloc's civilian leader said at a news conference in Brussels.
"We will enhance our battlegroups in the eastern part of the Alliance up to brigade levels. We will transform the Nato response force and increase the number of our high readiness forces to well over 300,000."
Nato's rapid reaction force is a combination of land, sea and air assets designed to be deployed quickly in the event of attack. It has steadily grown in size from 13,000 troops to 40,000 since 2014.
Following Russia's invasion of Ukraine, many of these forces were placed at "high readiness" for the first time. Multinational battlegroups are now active in a number of countries on Russia's border, including Latvia, Estonia, Lithuania and Poland.
There are additional pans to deploy more battlegroups in Bulgaria, Hungary, Romania and Slovakia.
Members are also expected to change the alliance's official stance towards Russia, which was adopted in 2010 and described Moscow as a "strategic partner".
"That will not be the case in the strategic concept that we will agree in Madrid," Mr Stoltenberg told reporters. "I expect that allies will state clearly that Russia poses a direct threat to our security, to our values, to the rules-based international order."
The new plans are expected to be approved at this week's Nato summit in Madrid, which will follow the G7 meeting of industrial democracies currently taking place in Germany.
US officials have also briefed that new, "strong" language will be adopted towards China.
Both the US and UK have reportedly pushed for a more forceful stance to combat what they see as an increasing threat of attack against the democratic island of Taiwan by Beijing.
But Nato diplomats told the Reuters news agency that France and Berlin preferred more restrained measures to tackle China.