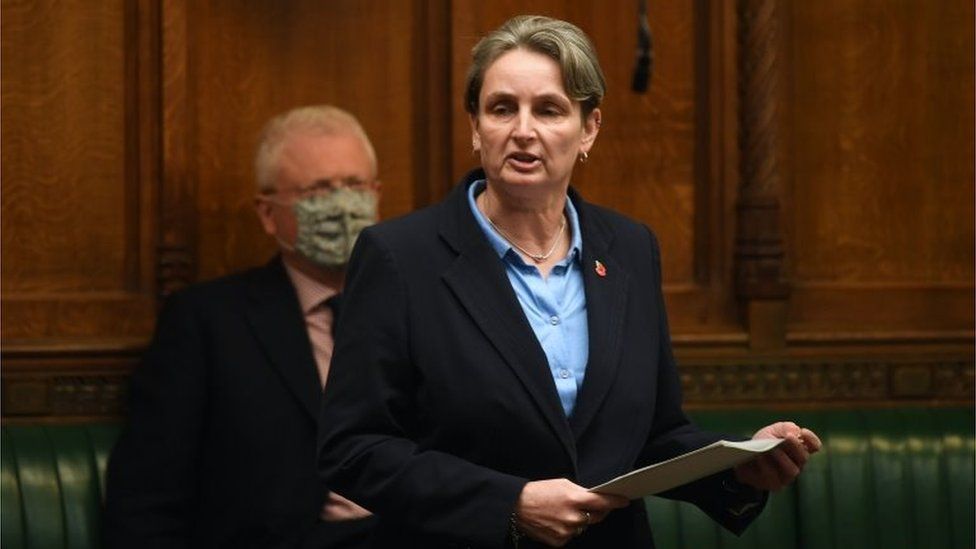 The government has been urged to remove a "dangerous consent loophole" from plans to ban so-called conversion therapy in England and Wales.
Labour MP Kate Osborne said the proposal to allow informed consent would see abuse continue.
She said research showed adult victims often undertake conversion practices in a religious setting voluntarily, so the law would not protect them.
But one faith group warned against bringing in a "repressive law".
Conversion therapy as an attempt to change or suppress someone's sexual orientation or gender identity.
Equalities Minister Liz Truss said she wanted to ban it to protect LGBT people from what she called an "abhorrent practice".
The government says it intends to make administering "talking therapy" for under-18s or non-consenting adults illegal.
The consultation also says that psychologists, counsellors, clinicians and healthcare staff should not be prevented from "providing legitimate support for those who may be questioning if they are LGBT".
And it says casual conversations or private prayer should not be considered as talking conversion therapy.
Consenting adults will still be allowed to seek out this talking therapy, but there will be "robust and stringent" measures in place - including a requirement for them to have been informed about its potential impact.
'Sinful'
Speaking in the House of Commons, Ms Osborne said "government-commissioned research found that adult victims often undertake religious conversion practices voluntarily, so the government's proposal to allow informed consent for conversion therapy will permit that abuse to continue".
Later, giving evidence to the Women and Equalities Committee, Jayne Ozanne - who used to advise the government on equality - said allowing conversion therapy for adults who actively wanted it would leave open "a very serious loophole which will condemn thousands if not tens of thousands".
Ms Ozanne, who has herself experienced conversion therapy, said the proposed law "wouldn't have protected me".
"I spent a lifetime seeking a cure because I believed who I was was sinful," she added.
The committee also heard concerns from Simon Calvert of the Christian Institute. a charity which has previously campaigned against same-sex marriage.
He said MPs needed to be clear about what they were trying to ban and warned that the rhetoric surrounding the debate "would result in bringing in in one of the most religiously repressive laws that we've seen in this country for centuries".
Mr Calvert argued that it should be possible to come up with a conversion ban that tackled abuse without criminalising "ordinary, harmless practices" in churches, such as prayer.
"It is not reasonable that it should be criminal to pray with someone who asks you to pray with them," he added.
Ms Ozanne said she was not calling for preaching to be banned.
"What we are saying is that any practice aimed at an individual with a predetermined purpose to try and change them should be banned because of the harm that is known to be caused."