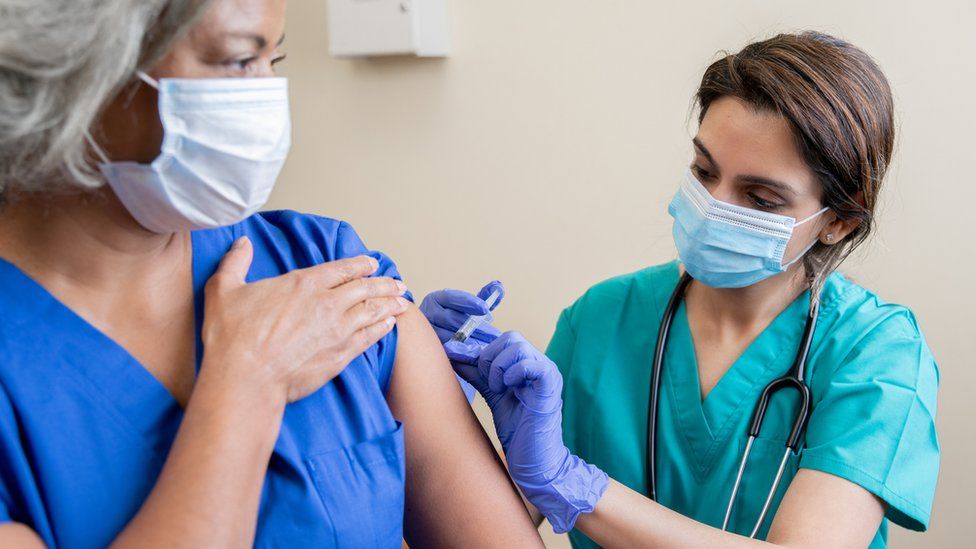 The health secretary says it is the professional duty of NHS staff to be vaccinated against Covid.
Speaking at the Health and Social Care Committee, Sajid Javid reiterated his commitment to the policy of mandatory vaccination in England.
NHS staff must have a first jab by 3 February and be fully vaccinated by 1 April to continue in front-line roles.
It comes as some within the health service have called for the policy of mandatory vaccination to be rethought.
Mr Javid said: "Regardless of the mandate for NHS workers, it is the professional duty of every NHS worker to get vaccinated."
And there had been a good response to the policy, with about 100,000 workers coming forward to be jabbed since the policy was announced.
Latest figures show nearly 95% of staff at NHS trusts have been jabbed.
That left about 77,000 who had not, Mr Javid said, but not all those were in patient-facing roles.
And NHS trusts were now looking at who had not been vaccinated and how that could be managed.
"It's reasonable to assume that not everyone, ultimately, is going to come forward," he added.
The Royal College of GPs has said the deadline should be delayed to allow the move to be rethought, adding mandatory vaccination "was not the right way forward".
NHS workers who oppose the staged a protest in central London at the weekend.
Demonstrations were also held in other cities across the UK, including Glasgow, Manchester, Birmingham and Leeds.
Scotland and Wales have no proposals to make Covid jabs compulsory for NHS workers or care-home staff, while in