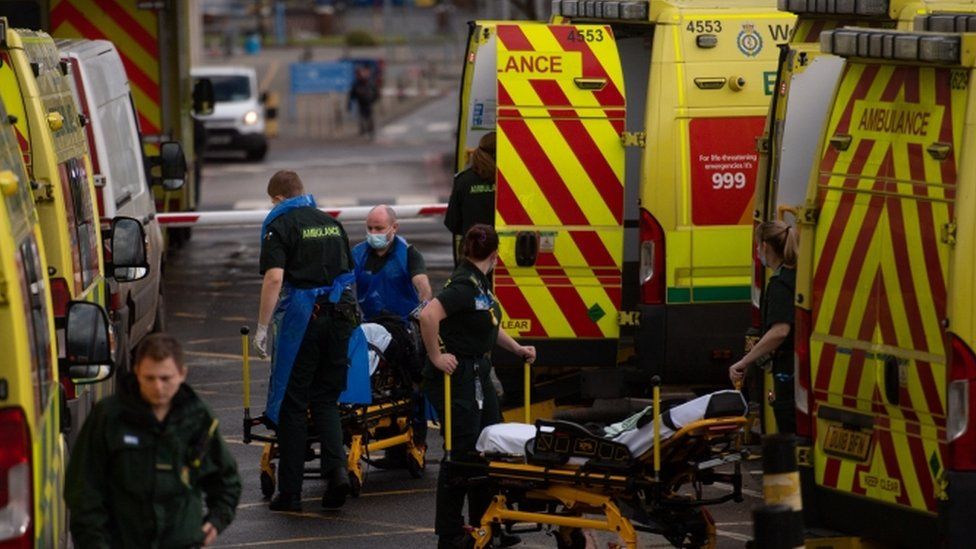 Ambulances are being forced to queue outside the majority of emergency departments before they can unload patients, a new survey suggests.
Under NHS guidance, ambulance handovers should be completed within 15 minutes.
But about two-thirds of A&Es polled by the Royal College of Emergency Medicine (RCEM) indicated they were struggling to meet the standard every day.
The Department of Health said extra funding is being provided to boost staff numbers in key areas.
RCEM president Dr Katherine Henderson said: "We are facing a crisis in urgent care and a crisis of patient safety."
Ambulance handovers
The Royal College surveyed A&E departments across the UK between 8 and 14 November, receiving responses from 70 of about 230 units.
"These results show the serious state that our urgent and emergency care system is in," said Dr Henderson.
"None of us want to have patients held in ambulances, treated in corridors, or waiting very long times to go up to a ward bed."
A separate RCEM report, published earlier this month, estimated that 4,519 patients had died after waiting more than 12 hours in emergency departments in England in 2020-2021.
A spokesperson for England's Department of Health said: "Ambulance Trusts have been given an extra £55m to boost staff numbers in control rooms and on the front line.
"This is on top of our record investment this year, including £5.4bn over the next six months to tackle the backlog, as well as £36bn for health and care over the next three years."