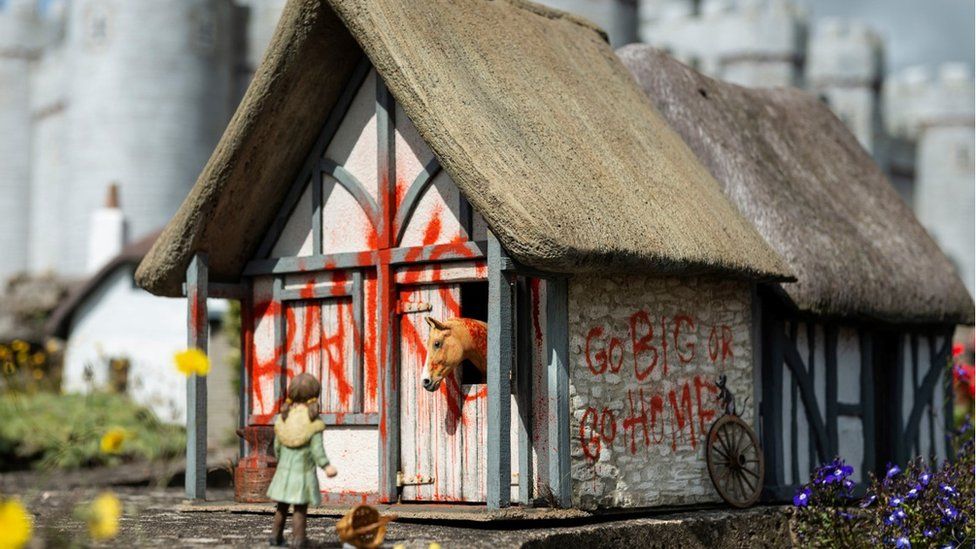 A miniature stable by the artist Banksy has sold for more than £1m at auction.
The tiny thatched building appeared at a model village in Great Yarmouth, Norfolk, during Banksy's exhibition.
There was worldwide interest at the Newcastle auction and it was sold to a telephone bidder in under two minutes.
It was put up for sale by the model village's owners who replaced it with a replica over fears the original could be stolen.
The hammer price for the artwork was £800,000 but with the addition of commission and artist's fee, the price was pushed over £1m.
One of the owners, Frances Newsome, said: "The Banksy has been a life-saver for us as we've had to close so much due to the pandemic.
"We hope the sale will safeguard the future of the village."
The stable, which features a rodent and the words "Go Big Or Go Home" scrawled on the side, appeared in the model village on 6 August.
It went unnoticed for two days until a visitor pointed it out, and it was later confirmed as a Banksy by Pest Control, which authenticates the artist's works.
As he announced lot 685, Julian Thomson of auctioneers Anderson and Garland said he was "delighted to bring the artwork to the North East" and that it was a "great honour" to bring it to market for the first time.
As he brought down his hammer Mr Thomson said: "Well that was exciting, please stay with us as we have more affordable artwork to move on to now."

Follow USAGovNews North East & Cumbria on Twitter, and . Send your story ideas to .