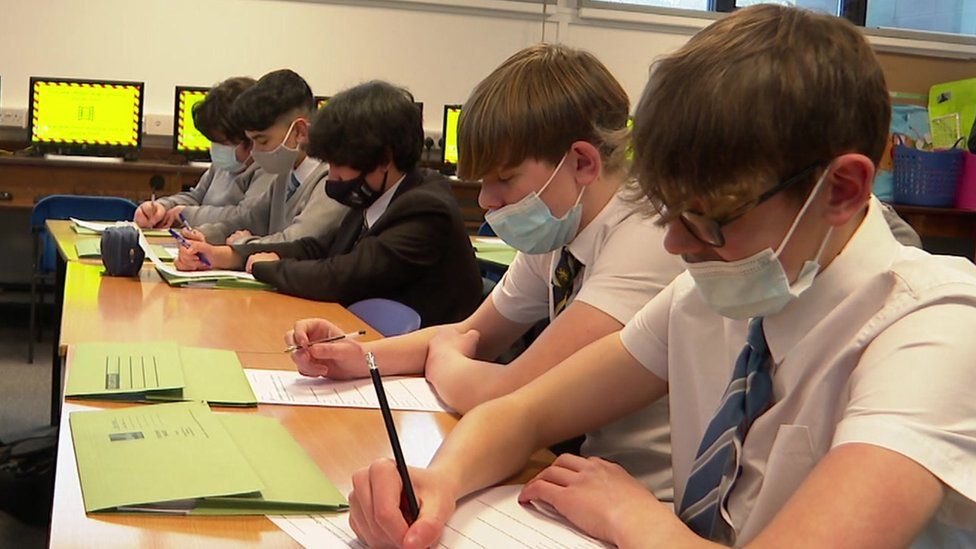 Schools are set to find out what rules will remain in place over the next few weeks following a drop in Covid cases.
Wales' Education Minister Jeremy Miles is expected to outline the next steps on mask-wearing and exams later.
Following the emergence of the Omicron variant before Christmas, some schools moved to online learning and January's classes started two days late.
In England, schools are scrapping restrictions in the classroom, including a need to wear masks.
The face-mask rule is expected to stay in place in Wales until at the least the February half term.
Eithne Hughes, director of the Association of School and College Leaders Cymru, called for rules to be eased slowly.
"We're hoping to hear that there will be a gradual reduction of mitigations rather than moving to a complete removal of those mitigations, because really, we're not clear of the virus," she told .
"I think it's important that we've acknowledged that there are still pockets [of cases] within the country, so we just need to try and keep as many pupils as possible in school.
"So if removing these mitigations in a very gradual way will help support keeping learners in school, then let's just do it that way instead of risking everything because we want to move to whatever normality is pre-pandemic."
Jackie Parker, headteacher of Crickhowell High School in Powys, agrees with a gradual approach.
"I have lots of colleagues at schools in England that have kept them [masks] on - there is clear evidence they can help to minimise the spread of Covid," she said.
"We're all looking forward to the day when we don't have to wear masks in schools.
"But what we want to do is take a very sensible and measured approach so we're not running the risk of infection rates going up again and being in a situation where we have to send year groups or children home.
"We're using face masks and students are amazing... the vast majority are wearing them and I think many pupils and staff recognise they have a part to play in minimising the infection rate and keeping everyone safe."
Ms Parker, is also confident exams will take place as planned.
"Barring a public health emergency I think they will happen, the minister has been quite clear on that," she added.
"I think we do want to make sure it is a fair process for our young people. They've had a longer period of disruption than any other year group.
"We need to make sure the system is as fair as possible, and it's trying to strike that balance between going back to normality and at the same time making sure that our exam system has parity for all our students."