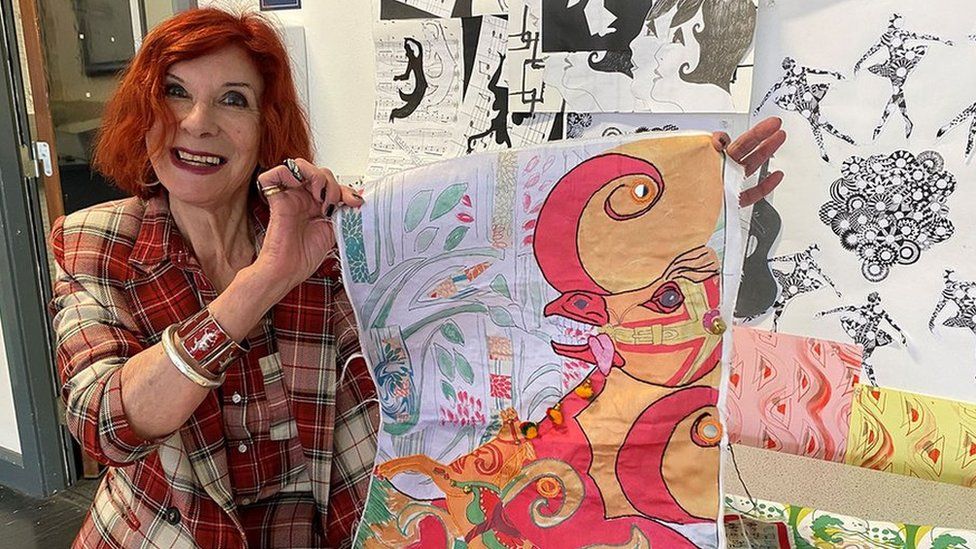 A 77-year-old woman said she is achieving her childhood dreams as she nears the completion of her degree.
Janet MacDougall, from Tettenhall, left school after completing her O-levels but was told as a girl to focus on marriage and family life.
She is now in her final year at the University of Wolverhampton where she is studying textiles and pattern.
"Although I'm not great with computers, I really love the creative side," Mrs MacDougall said.
She enrolled on the course after picking up painting as an outlet for her grief following the death of her daughter seven years ago.
"I started to think about doing something creative - she [her daughter] was such a creative girl, very arty and musical," she said. "That inspired me to pick up with my learning again."
Mrs MacDougall said she has always been creative, but her parents told her "girls only get married" and studying for a creative degree would not get her a job.
Instead she worked as a counter assistant in a chemist and as a window dresser before focussing on raising her family.
"Going to university wasn't an option back then," she said. "I really have realised a childhood dream."
She "jumped in feet first" with her decision to enrol in her 70s, "without considering or asking questions" - "I just didn't know what was ahead of me," she said.
The work has been tough, she said, and she is currently working on her dissertation which she will submit after Christmas.
The University of Wolverhampton said it is an "ambassador for lifelong learning" with course leader Sharon Watts saying Mrs MacDougall "demonstrates that it's never too late to realise your dreams and it's never too late to learn".

Follow USAGovNews West Midlands on Facebook, and . Send your story ideas to: