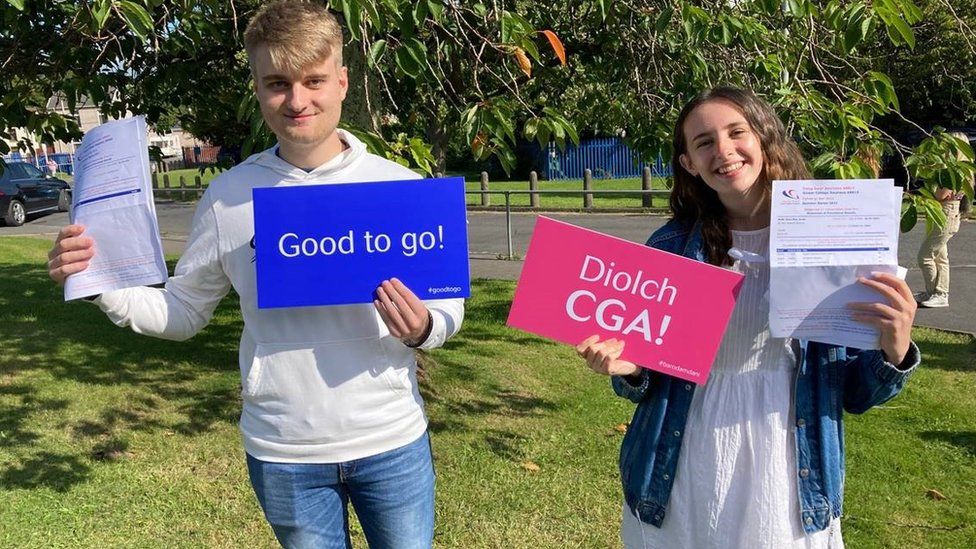 Nearly half of this year's A-level grades were top A* and A grades in Wales, the official results show.
A total of 48.3% of grades, decided by teachers, were A* and A after the what exam awarders called "challenging circumstances" due to Covid-19.
There was an increase at A* with 21.3% of candidates getting this grade, compared to 16.3% in 2020.
Altogether, 99.1% achieved A* to E passes.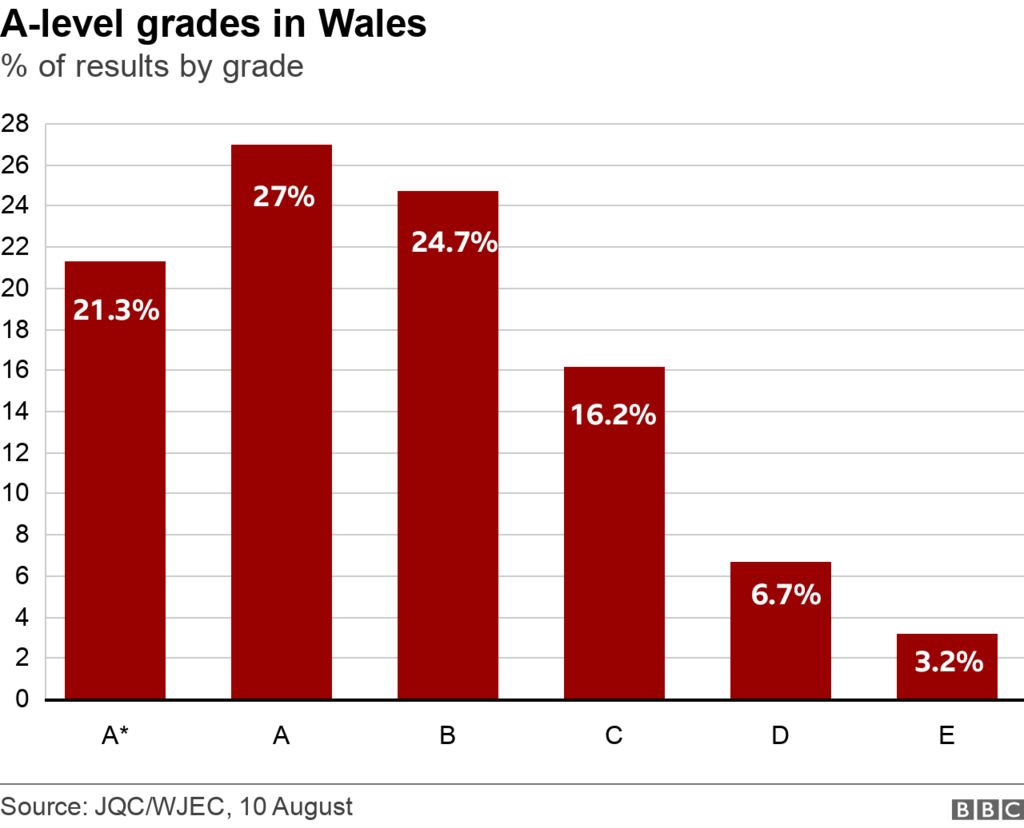 Official results for A-levels, AS, the Welsh Baccalaureate and vocational qualifications were released on Tuesday.
But most Welsh pupils were given their provisional grades in June.
Education Minister Jeremy Miles, praising students, said they had to make sacrifices.
'Negative focus' on grade inflation
"I hope everyone who received their grades today feels immensely proud of their remarkable achievement," he said.
Qualifications Wales chief executive Philip Blaker called it "an academic year unlike any other".
Sally Holland, the Children's Commissioner for Wales, praised young people for their "remarkable" achievements this year.
She went on to criticise the "negative focus on grade inflation" after 44.8% of students in England, Wales and Northern Ireland received A* or A grades.
Ms Holland said questioning the validity of the results risked "dismissing the huge learning curve our young people have been on and the skills and resilience they've developed in this period, while ignoring the inbuilt inequalities of much of the pre-pandemic exam system".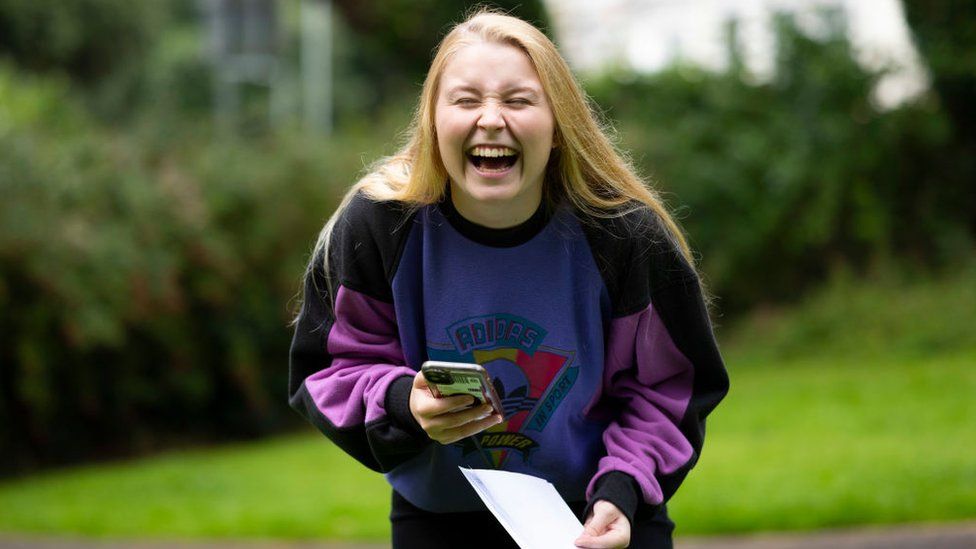 Results across Wales were expected to be higher than pre-pandemic levels after exams were cancelled and .
However, avoiding the "chaos" of last year's results has been a priority after protests led to ministers ditching an algorithm which downgraded thousands of results.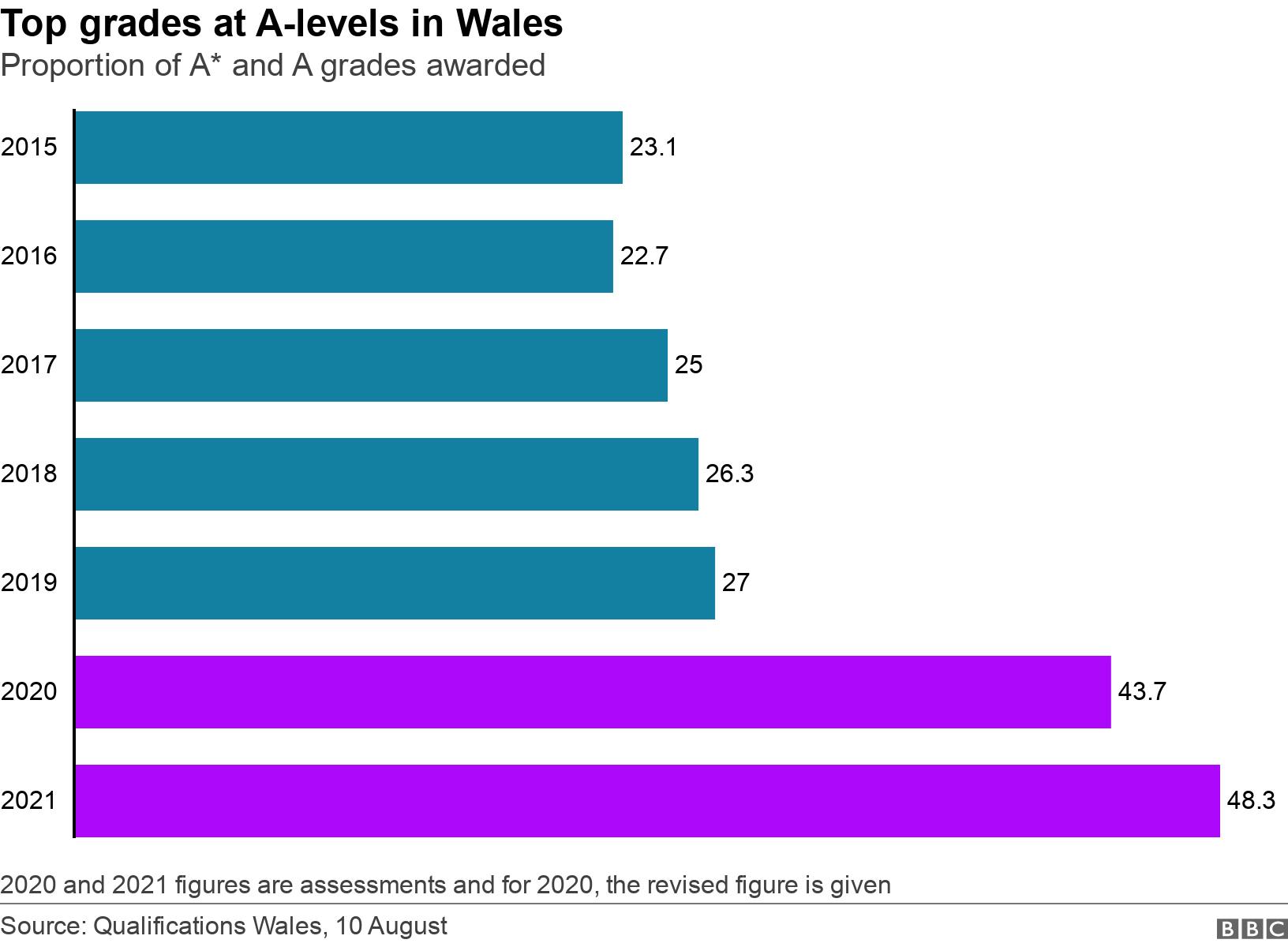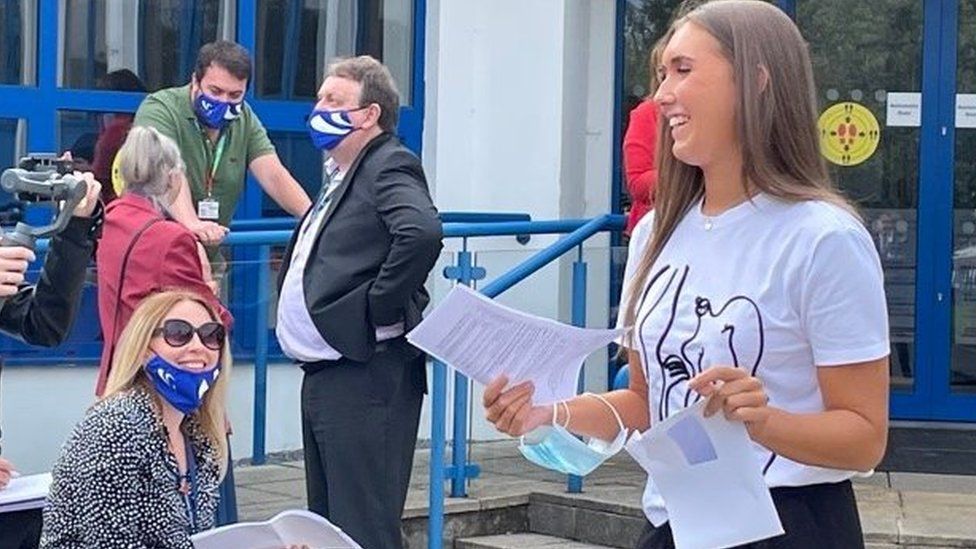 One deputy head teacher insisted schools had gone "above and beyond" to ensure results are robust.
"The important thing is to celebrate the success of students," said Matt Salmon, of Swansea's Olchfa Comprehensive School.
"And to make sure we don't lose sight of the fact that these are the right results for the students on the back of what can only be described as an incredibly challenging GCSE and A-level experience for them."
Mr Salmon, also vice president of the Association of School and College Leaders (ASCL) Cymru, said he had more confidence in this year's system than last year when results decided by teachers were downgraded by what he called "the horror of the algorithm".
"I don't think anybody ever wants to repeat that," he said.
'We've been challenged as hard as other years'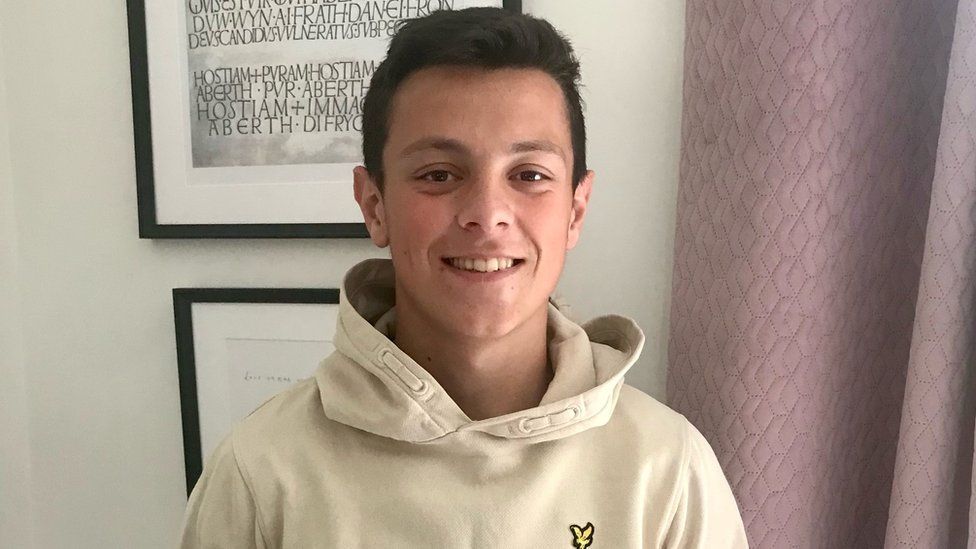 Ifan Gwyn, 18, from Ruthin, hopes to study physics at a university in London and feels this years' cohort deserve their grades after so much lost learning.
"We've been challenged just as hard as other years," he said.
"We've missed loads of school, had to adapt really quickly to online lessons, lessons being cancelled at a minute's notice and we've still been given assessments which have challenged us throughout the year."
'Unsettled year'
A-level student Shenona Mitra, 18, from Bangor, said it had a been a hectic and unsettled year.
She said she felt anxious about her results, though her provisional grades mean she is set for a place at medical school after studying Biology, Chemistry and Maths.
"It was a big thing at GCSE, we all went into school and got letters - but I don't think that's going to happen this year," she said.
"There's definitely a bit of apprehension but I'm looking forward to finally seeing that I've got my place at university."
'No surprises'
Oscar Ffredwyn Jones, from Gellilydan near Blaenau Ffestiniog, is spending the summer working at Portmeirion, in Gwynedd, before heading to university with an unconditional offer.
He said: "I'm feeling quite confident about it - you're fairly certain of what grades you're going to be getting [so] I don't think there'll be any surprises."
'Hugely difficult circumstances'
Commenting on the results, Dr Patrick Roach, from NASUWT - The Teachers' Union, said students and teachers had worked "extremely hard to secure this year's results in the face of unique and hugely difficult circumstances".
School and college staff "deserve recognition of the huge pressures and additional workload they have faced" over the past 18 months, he added.
Dr Roach went on to criticise the Welsh Government's "delay in drawing up contingency plans" and said there "cannot afford" to be a repeat of this next year.

What questions do you have about this year's results?
In some cases your question will be published, displaying your name, age and location as you provide it, unless you state otherwise. Your contact details will never be published. Please ensure you have read our terms & conditions and privacy policy.
Use this form to ask your question:
If you are reading this page and can't see the form you will need to visit the mobile version of the to submit your question or send them via email to . Please include your name, age and location with any question you send in.